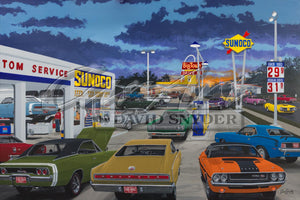 In 1970 on the corner of Woodward and Taunton there was a Sunoco gas station owned by Ted Spehar. Ted sold a lot of Sunoco 260 to the cruisers on Woodward Avenue. He also built race ingines using parts from his connections at Chrysler.

Some of these parts from Chrysler Engineering found their way on to mechanic Jimmy Addison's 1967 GTX. Addison became the terror of Woodward Avenue and the legend of the Silver Bullet was born.

Prints of "1775 Woodward" are reproduced from the original painting. Only 500 signed and numbered limited edition prints (22"x28").