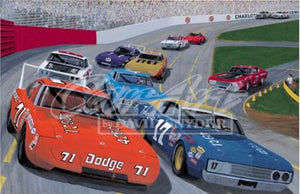 The Champion of the 1969 season was David Pearson. Pearson won an amazing 11 races.

Depicted in this new painting is the historic National 500 in October of that year at the Charlotte Motor Speedway. Historic because it was the first time the Ford Talladega went up against the new Dodge Daytona on a super speedway.

"1969" showcases the drivers who won a race during the 1969 season. Bobby Isaac (17), David Pearson (11), Richard Petty (10), Lee Roy Yarborough (7), Bobby Allison (5), Cale "Yarborough (2), Richard Brickhouse (1) and the winner of this race, Donnie Allison (1) exits pit lane.

This is the first of a series highlighting American Muscle at the races. Only 500 prints and 50 artist proofs will be published from the original painting. Each signed and numbered print measures 18" x 26" and is printed on high quality acid free stock trimmed to 22" x 28".
Signed by David Pearson
Artist: Dave Snyder