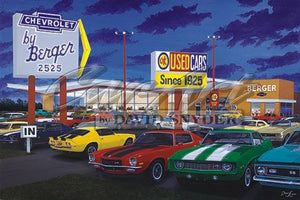 For 88 years Berger Chevrolet has been satisfying customers in Grand Rapids, Michigan.

Since 1967 high performance Chevrolet enthusiasts have relied on Berger Chevrolet for go fast goodies!

Berger sells a lot of Camaros, going as far as ordering truckloads from the Norwood Assembly Plant in Ohio and making special edition "Grand Rapids Camaros". In 1967 and still today Berger makes special edition Camaros at "2525 28th" in Grand Rapids. In this 1971 scene, artist David Snyder pays tribute to the high performance year of Berger Chevrolet.

Artist David Snyder has produced only 500 limited edition prints, 50 artist proofs and 10 Giclees from the original painting. The prints and artist proofs are hand signed and numbered by the artist; measuring 18" x 26" and printed on high quality acid free stock trimmed to 22" x 28".
Artist: Dave Snyder