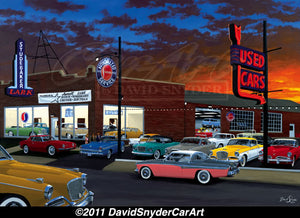 "Advanced Thinking" was the advertising tag line used for the 1963 Studebaker Avanti. The Raymond Loewy designed coupe was the most exciting new car for 1963. It was picked to be the Indianapolis 500 Pace Car; but production problems got in the way and ultimately the Lark Daytona convertible paced the annual classic.

1963 was a big year for Studebaker with the introduction of the Avanti. The Wagonaire got a new sliding rear roof panel to haul tall loads. The 289 cu. in. V-8 was available with a supercharger.

The year didn't end so well; Studebaker president Sherwood Egbert, sick with cancer, stepped down. New president Byers Burlingame moved the production of Studebakers from South Bend, Indiana to Ontario Canada.

"Advanced Thinking" celebrates the interesting year of 1963 in Studebaker history. Artist David Snyder has produced only 500 limited edition prints and 50 artist proofs from the original painting. The prints and artist proofs are hand signed and numbered by the artist. And measures 18" x 26" and is printed on high quality acid free stock trimmed to 22" x 28".
Artist: Dave Snyder