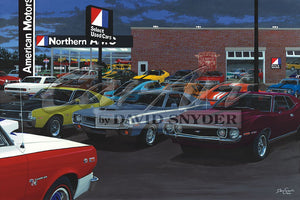 In 1966 a show car appeared at the auto shows introducing the intentions of AMC into the muscle car fray. It was the AMX concept car followed shortly after by the AMX II. In the showroom, AMC offered the Marlin equipped with a 343 cu. in. 280 h.p. V8 tied to a four speed. As the saying goes, AMC was "off to the races".

Some incredible and unique cars were produced by AMC in the muscle car era; the Hurst SC Rambler, Javelin and the AMX two seater with engine sizes up to 401 cu. in. The styling studio of Dick Teague penned some of the most beautiful cars of the era.

AMC won on the track and strip. Javelin lost the 1970 Trans Am Championship by one point under the Penske Team with Mark Donohue. Roy Woods Racing took over what Penske started and Javelin won the championship in 1971 and 1972.

The painting has been reproduced as a limited edition print of only 500 plus 50 artist proofs. The prints and artist proofs are hand signed and numbered by the artist. The image size is 18" x 26" and is printed on high quality acid free stock trimmed to 22" x 28".
Limited availability
Artist: Dave Snyder