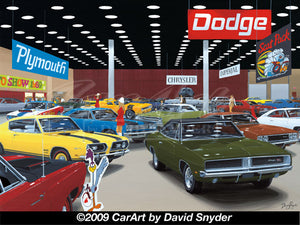 Nineteen sixty nine was a banner year for the Chrysler Corporation with 1,639,694 automobiles sold. The Plymouth Road Runner alone accounted for 84,420 cars sold and was named the Motor Trend Magazine "Car of the Year". Traveling the auto show circuit in 1969 was the Plymouth Duster I concept car. The topless Hemi powered car was based on the Road Runner shortened to a 100 inch wheelbase.

Dodge also showed a custom concept, the "Custom Swinger 340" with its six inch chopped roof. The Dodge Charger line up included three distinct body styles. The Charger 500, the winged Charger Daytona and the regular Charger. Total production on the Charger was over 89,000. Chrysler also showed a concept car in 1969, the 70X with parallel sliding doors.

From the paint brush of David Snyder "Auto Show 1969" gives us the opportunity to step back in time and visit the show. Only 500 Limited Edition prints and 50 Artist Proofs will be published from the original painting. The prints and artist proofs are hand signed and numbered by the artist. The image measures 18.5" x 26" and is printed on high quality acid free stock trimmed to 22" x 28".
Artist: Dave Snyder