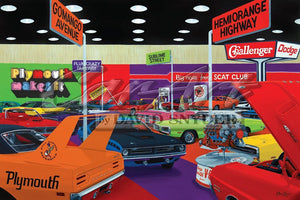 Chrysler 1970... it's all about High Impact Color and High Horsepower.

High Impact Color - with names that suited the vibrancy of each hue - Lime Light Green, Panther Pink, In Violet Purple, Vitamin C Orange, Tor-Red and Blue Fire; and let's not forget Lemon Twist and Moulin Rouge. For those who dared to show their colors, $14.70 would be added to the bottom line. High Horsepower was available in the form of a 426 cu. in. Hemi rated at 425 horsepower or a 440 six pack at 390 horsepower.

The E Body was introduced in 1970 - the Cuda from Plymouth and the Challenger from Dodge.

"Auto Show 1970" showcases all that was new and exciting from Mopar in 1970. Artist David Snyder has produced only 500 limited edition prints, 50 artist proofs from the original painting. The prints and artist proofs are hand signed and numbered by the artist; measuring 18" x 26" and printed on high quality acid free stock trimmed to 22" x 28".
Artist: Dave Snyder