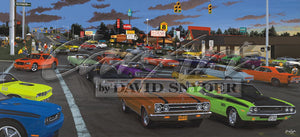 During the Mopar Nationals every August the party moves to Brice Road. As the sun goes down on Reynoldsburg Ohio, high horsepower Mopar lights up the street. Tire smoke and roaring motors fill the night as Mopar fans from around the world stand by and cheer. Mopar drivers strut their stuff during this unofficial parade of the best of the best in Mopar.

"Back To Brice" is artist David Snyder's second visit to Brice Road with a paint brush in his hand. The first painting was completed in 2001 and sold out as fast as the speeding Mopar Muscle on the National Trails Raceway drag strip. Don't miss the opportunity to own "Back To Brice" before it sells out too.

"Back To Brice" is reproduced from an original painting to a limited edition of only 750 prints and 75 artist proofs. The prints and artist proofs are hand signed and numbered by the artist. The image measures 15.5" x 34" and is printed on high quality acid free stock trimmed to 20" x 36".
Artist: Dave Snyder