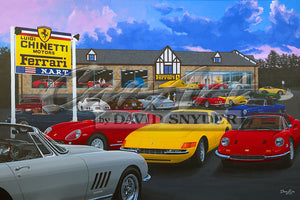 Prior to starting Chinetti Motors, Luigi Chinetti participated in the 24 Hours of Le Mans 12 times. He won overall three times. It was because of this he formed a special relationship with Enzo Ferrari. In 1949 Chinetti was the first Ferrari distributor in the United States. In the late 60's Luigi Chinetti moved Chinetti Motors from Manhattan to Greenwich Connecticut.

The painting "Chinetti Greenwich" by automotive artist David Snyder depicts a scene from 1973, the last location of the dealership.

Prints of "Chinetti Greenwich" are reproduced from the original painting. Only 500 signed and numbered Limited Edition prints; 50 signed and numbered Artist Proofs are available.
Artist: Dave Snyder