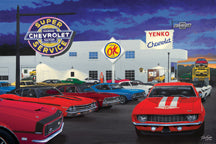 Artist: David Snyder
Don Yenko built a reputation of building high performance race cars starting with road racing in the early 60's. He then started selling special built cars based on what he learned on the track. By 1969 Yenko Chevrolet had a dealership network of its own. To buy a Yenko Chevelle or a Yenko Camaro you didn't have to go to Canonsburg, Pennsylvania. You could buy a Yenko at a local dealership, from V. V. Cooke Chevrolet in Louisville, Kentucky; Joseph Chevrolet in Cincinnati, Ohio; Colonial Chevrolet in Norfolk, Virginia or Jack Douglass Chevrolet-one of the largest, in Hindsdale, Illinois. There were about 30 Yenko dealers across the country. Don Yenko delivered to you.

Print Size: 17" x 26" image on 22" x 28" acid free heavy stock.
Edition Size: 500, S/N