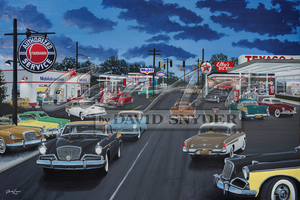 Artist: Dave Snyder
The roots of the Studebaker Hawk go back to the 1953 Commander Starlight. The advertising of the day proclaimed "The low slung European look. The coming thing in car design". Studebaker certainly stood alone in the automotive design in the 1950's.

The first Studebaker to bear the Hawk marque was the 1956. Four models offered were the Golden Hawk, Sky Hawk, Power Hawk and Flight Hawk and sold almost 20,000 cars. In 1957 there was the Golden Hawk and Silver Hawk. The merger with Packard Motor Cars in 1958 Packard had their own Hawk selling only 588 cars.

A new roof line and rear fenders were introduced in 1962 on the Grand Turismo Hawk. By 1964 only 1767 G. T. Hawks sold and the model was dropped.

The Studebaker Hawk is highly prized by collectors today. Automotive artist David Snyder pays tribute to the Studebaker Hawk in his newest painting "Dusk Hawks". "Dusk Hawks" has been reproduced as limited edition prints. Five hundred prints, 50 artist proofs and 10 giclee gallery edition prints are published from the original painting and are signed and numbered by the artist.