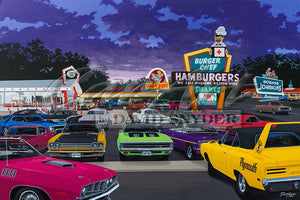 Artist: Dave Snyder
There is no collector quite like the Mopar muscle collector. They are one of the most loyal and fanatical group of enthusiasts.

What makes this group so loyal? It could be the wins that were made at the tracks with names like Ronnie Sox and Richard Petty. Perhaps it's because Mopar took the checkered flag in NASCAR and the drag strip. It might be the innovations like the HEMI that produced record horsepower in both competition and on the street. The other manufacturers were always playing catch-up. I think the high impact colors had a lot to do with the collectablilty of Mopar muscle. Who can ignore Plum Crazy, Moulin Rouge or Sub Lime? Whatever the reason Mopar enthusiasts "eat and sleep Mopar".

The prints and proofs are hand signed and numbered by the artist; measuring 17.5" x 26" on 22" x 28" acid free stock.