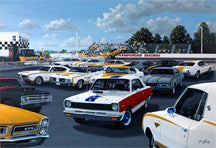 Artist: Dave Snyder
In the '60s and '70s, if you were going fast, a quarter mile at a time, chances are you did it with a Hurst Shifter.

You could not go to a racing venue without seeing the iconic red and black "H"; and you might even spot "Miss Hurst Shifter" Linda Vaughn. A consummate promoter, George Hurst knew how to craft an image. Hurst sponsored several exhibition drag cars, first the "Hemi Under Glass" Barracuda and then the "Hairy Oldsmobile" powered by two 445 Toronado drive trains.

Hurst engineer Jack "Doc" Watson developed the 1968 Hurst Oldsmobile using the Toronado 455, which paved the way to the development of the 1969 Hurst Oldsmobile and the 1969 American Motors SC/Scrambler. Chrysler signed up in 1970 and the 440 powered full sized 300H hit the showrooms. The 1972 Hurst Oldsmobile became the only non-production car to be named "Official Pace Car" for the Indianapolis 500. . . leading the way for the production of the Hurst Oldsmobile from 1973-1975.

Artist David Snyder pays tribute to George Hurst and Jack Watson in his new painting "Hurst Performance".

Print Size: 18" x 26" image on 22" x 28" acid free heavy stock.
Edition Size: 500, S/N