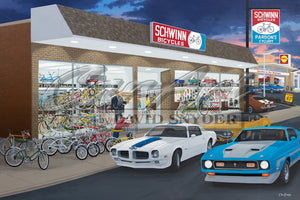 Artist: Dave Snyder
In 1971 you could walk into your local Schwinn Dealership and buy a 5 speed Orange Krate for $101.95. Today one in good condition will set you back between $2,000.00 and $3,000.00. A new old stock front fender alone can fetch $150.00. After all, Schwinn bicycles are the best!

Muscle car enthusiasts are now adding old Schwinn bicycles, accessories and dealership advertising to their collection. In particular, the Krate Stingray bicycles are very collectible. The guy who collects the 1971 Trans Am would love to have a 1971 Cotton Picker displayed along with the car.

This new painting by automotive artist David Snyder depicts the typical Schwinn Dealership in 1971. "It's Fun" has been reproduced as a limited edition of 500 prints; 50 artist proofs and 10 Giclee prints on canvas. All prints are signed and numbered by the artist.