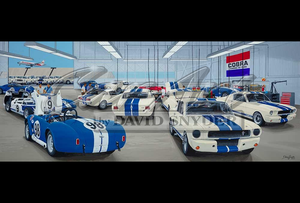 In December of 1964 Shelby American began its move from Venice Avenue to two aircraft hangars at LAX. One hangar housed the assembly of the production 1965 Shelby GT 350. The other was the race shop.

By April 1965 production was at a frenzied pace. In his most recent painting "LAX Inside", David depicts building the race cars that changed history. Three GT40s were under final inspection and ready to be sent to France for LeMans practice. Preparation of the GT350R was underway. The 427 Cobra was under development.

Published from the original painting "LAX Inside" has been reproduced as a limited edition of 500 prints, 50 artist proofs (co-signed by Shelby engineer Chuck Cantwell) and 10 giclee prints. The prints, artist proofs and giclees are hand signed and numbered.