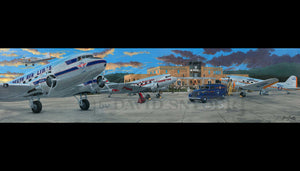 In 1946 Lunken Airport was serviced by three major airlines -- American, TWA and Delta. The following year all three would move to the ever expanding CVG airport in northern Kentucky.
David spent a year researching timetables and sketching, striving for the best way of depicting Lunken Airport in her finest hours.
The painting "LUK 1946" is David's design and composition in celebration of an iconic time in American history. The Original Painting is executed in acrylic on board and measures 48" x 12". Limited edition prints are reproduced from the original painting. Only 200 signed and numbered limited edition prints (38" x 9.5") and 20 signed and numbered artist proofs (38" x 9.5") are available.