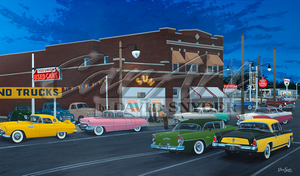 One night in 1956 four guys walked into Sun Studio in Memphis – Elvis Presley, Jerry Lee Lewis, Johnny Cash, and Carl Perkins. An impromptu jam session and the legend of The Million Dollar Quartet was born.
The newest painting pays tribute to that night.
Prints of "Memphis Recording Service" are reproduced from the original painting. Only 500 signed and numbered limited edition prints (19" x 28"); 50 signed and numbered artist proofs (19" x 28") printed on high quality acid free stock are available. 10 Giclee prints (29" x 48") printed on archival canvas are available and are also signed and numbered.