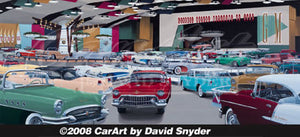 It's press night before the opening of the 1955 Motorama.  The models are elegantly dressed in gowns of silk, tulle and taffeta.  Miss Buick is being photographed in her black and white dress; her ruby necklace a perfect match to the Buick Wildcat III.  Miss Cadillac, dressed in pink waits her turn to be photographed in front of the Cadillac Eldorado Brougham.

Other concept cars at the 1955 Motorama are the Chevrolet Biscayne, the Pontiac Strato Star and the Oldsmobile Delta.  The first American mini van, the L'Universelle with its coral paint and cam doors is shown as a concept car.  The marque LaSalle is shown for the first time since 1940 as a four door sedan and as a two door roadster.

The 50 millionth GM production car was a 1955 Chevrolet Bel Air hardtop complete with gold plated trim.  It takes a prominent spot next to the new 265 cu.in. Chevrolet V8. Artist David Snyder researched old films and more than 40 photographs to make "Motorama 1955" come to life.
Print Size: 15"x34" image on 20"x36" acid free heavy stock.
Edition Size: 500