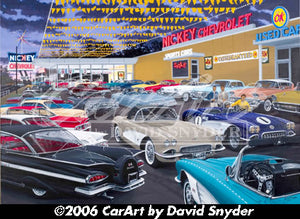 Artist: Dave Snyder
Every car enthusiast in Chicago knows the legend of the backwards "K", the Nickey Chevrolet dealership on the northwest side. This spring evening in 1962 the OK used car lot is busy. Anxious buyers take cars out to test drive up and down Irving Park Road. The 1959 SCCA Corvette "Purple People Eater" is rolled out for promotional purposes.

The Stephani brothers loved to go racing to promote the delaership and it did not matter which kind as Nickey sponsored stock cars plus racers in the SCCA and NHRA. Their list of drivers included: A.J. Foyt, Jim Jeffords and Dick Harrell.

Print Size: 18"x26" image on 22"x28" acid free heavy stock.
Edition Size: 950, S/N