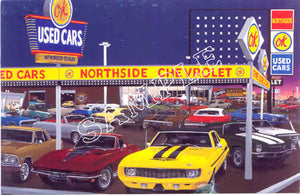 Artist: Dave Snyder
Wouldn't you love to walk into this scene in 1972 and onto this OK USED CARS lot? You could pick up a gently used 1970 Z-28, 1969 Yenko Camaro or a not so gently used '67 Big Block Corvette. Pick them up, store them for thirty five years, take them to Barrett Jackson - SOLD! Bingo, you beat the market big time.

OK Used Cars was Chevrolet's mark of quality since the mid 1930's. Northside Chevrolet, featuring some of the best Chevy muscle from the late sixties until 1972 is now available.

Print Size: 18" x 24" on 22" x 28" acid free heavy stock.
Edition Size: 950, S/N