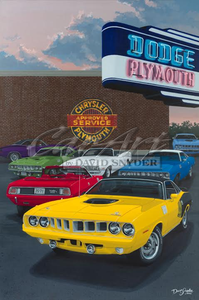 "Plymouth Service" is the third painting in the "Service" series.
When you walked into the Plymouth dealership in 1971 to buy a Cuda, the choices seemed almost endless. For high performance power you could go from a 340 cu.in. up to the 426 hemi. You could install a 4 barrel carburetor to a six pack, 3 two barrels. And colours! Lemon Twist, Moulin Rouge, Sassy Grass Green and In Violet. Options included four speed or automatic to spoilers and striping kits… make it your own!
Giclee prints of "Plymouth Service" are reproduced from the original painting. Only 200 signed and numbered prints (16" x 24"). Each giclee is printed on archival canvas adhered to board.