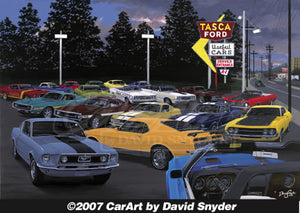 Bob Tasca Sr. started racing in 1962 with a lightweight 390 Galaxie. Since then this East Providence Rhode Island dealership has been a fixture on the quarter mile stage.

Always the innovator and after blowing up a lot of 390 cu. in. engines, Tasca found a way to lead the Blue Oval to win races. He bolted on a pair of old style low riser, higher breathing 427 headers to the high torque 428. Dearborn took notice and the Cobra Jet was born.

In Tasca's 1971 A-1 Used Car lot are Cobra Jet powered Mustangs and Torinos, including a few CJ powered King Of The Road Shelbys. Tasca's personal driver is a '69 Boss 429 that was reported to do runs in the 9 seconds.

Artist David Snyder pays homage to the CJ in his latest release "Tasca Cobra Jet". The painting has been reproduced as a limited edition print. "Tasca Cobra Jets" is limited to 950 prints plus 95 artist proofs. The prints and artist proofs are signed and numbered by the artist. The image measures 17.25" x 26" and is printed on high quality acid free stock trimmed to 22" x 28".
Artist: David Snyder