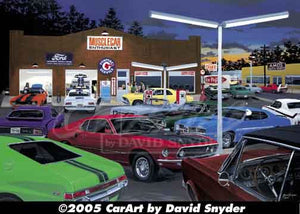 The folks at Muscle Car Enthusiast Magazine asked me to produce an image for the magazine cover. I was asked to express the essence of the muscle car hobby. Right......in one painting. A challenge but I will try.

I know what I did not want...the typical "top ten muscle cars of all time" survey. I selected the cars I would like in my stable. Definitely not something so valuable I would have to trailer it. The cars would be at the ready - ready to drive to the next Cruise In, ready for a night on the town or ready for that drive through the country on a summer day.

Editor Steve Statham helped a little, but don't blame him, this is my painting. After all, this is my garage and Steve can visit any time. So can You! Only 950 prints and 95 artist proofs will be published from the original painting. Each signed and numbered print measures 17 1/2" x 26" and is printed on high quality acid free stock trimmed to 22" x 28".
Artist: David Snyder