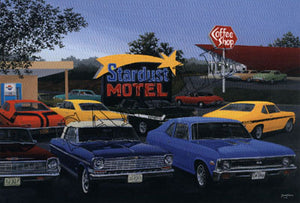 Artist: Dave Snyder
The Sleeper Awakes, a title taken from the headline of an ad for the 1969 Nova SS. Conceived as a Falcon fighter and born as an economy car, the Chevy II and Nova have very collectible cars today.

Buyers discovered an attractive sporty little car with the introduction of the Super Sport in 1963. In 1966 Chevrolet lowered a 350 h.p. 327 cu. in. motor into the engine bay and a potent street fighter was awakened. The 396 cu. in. Nova debuted in 1968 and in 1969 the likes of Yenko discovered the Nova transplanting the L72 427 cu. in. engines under the hood. Yenko described the 427 Nova as the scariest car he ever made.

Image size 18" x 26.5" on 22" x 28" acid free heavy paper.
Edition Size 950 S/N