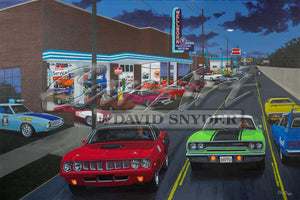 Artist: Dave Snyder
In 1971 Tim went with his father to the local Dodge dealership to pick out the family car. They went home with a 1971 Dodge Charger RT powered by a 426 Hemi. Tim picked Pam up for their first date driving a 1969 Dodge Daytona.

Fast forward a few years-both cars are still in the collection of the Wellborn Muscle Car Museum!

"Tim's Place II" shows the significant cars collected by Tim and Pam. Tim and his lifelong friend Phil race past the museum and the Alabama State Trooper is getting ready to spring the trap.

Prints of "Tim's Place II" are reproduced from the original painting. Only 500 signed and numbered limited edition prints (22"x28"); 50 signed and numbered artist proofs (22"x28") printed on high quality acid free stock are available. 10 Giclee prints (32"x48") printed on archival canvas are available and are also signed and numbered.